Fusion Bionic is proud to announce it has been recognized as a finalist in the Ray of Hope Prize®, a $100,000 prize competition presented by the Biomimicry Institute. Fusion Bionic improves the product performance in various industries using laser-generated surface textures inspired by natural blueprints such as the Lotus leaf and Moth-eye. All these surface textures replace ecologically harmful processes, such as chemical de-icing, sandblasting, or etching, while meeting the demand of increased product performance via industrial-scale surface finishing.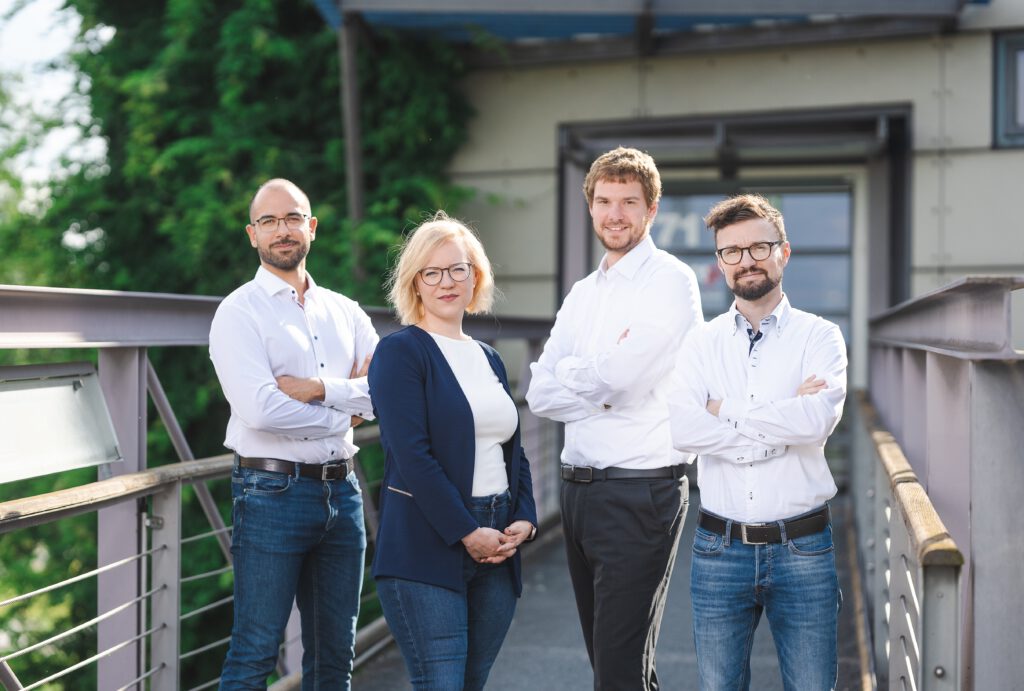 Fusion's uses a proprietary technology called Direct Laser Interference Patterning (DLIP) that can create micro- and nano-scale surface textures on which, for example, ice does not stick, (anti-icing for e.g. aviation), glass surfaces of smartphones do not reflect (anti-reflective), and implants are better accepted by the body (biocompatible, antibacterial). Recently, Fusion Bionic demonstrated that the Lotus effect can be integrated into photovoltaic panels which potentially allows to make PV panels more efficient and at the same time reduce water consumption for cleaning significantly.
Early adopters include the company Heraeus, a leading global technology and family-owned company headquartered in Hanau, Germany. "Fusion Bionic has an exciting technology inspired by nature that will help us to solve future product challenges related to material surfaces," said Thomas Stenger, Head of Business Segment Functional Materials of Heraeus Precious Metals. "They are also a great team and a lot of fun to work with." 
Out of 212 applications, spanning 54 countries, Fusion Bionic has been recognized as one of the ten companies in the running for the $100,000 prize, which will help the winning company accelerate their path to commercial success. The Biomimicry Institute's expert selection committee will decide which nature-inspired startup will take home the prize on November 16th, 2022. Gremium des Biomimicry-Instituts wird am 16. November 2022 entscheiden, welches von der Natur inspirierte Startup den Preis mit nach Hause nehmen wird. 
Fusion Bionic, founded in 2021, has already gained significant market traction through Proof-Of-Concept services and product deployment. Initially founded by four ambitious entrepreneurs, the team has grown to seven people within the last months. Since its foundation, a total amount of nearly 3.8 Mio. € has been acquired by funding, pre-seed investment, and revenue, which enables the team of Fusion Bionic to enable green manufacturing across industries using biomimicry. 
"We deeply believe that biomimicry is an innovation driver of the 21st century. The team of Fusion Bionic is extremely happy to be recognized as one of the Ray of Hope Prize Finalists. Winning this competition will surely boost our vision to advance surfaces using our bio-inspired laser technology and it gives us further confidence to pursue our ambitious way to transform industries towards a much greener manufacturing using the superpowers of nature connected to powerful lasers," said Tim Kunze, Founder & CEO of Fusion Bionic. 
The team of Fusion Bionic is dedicated to the world of functional surfaces using laser-based biomimicry. Be part of the journey! 
For more information about the Biomimicry Institute and Ray of Hope Prize, visit biomimicry.org. biomimicry.org. 
Fusion Bionic is transferring bio-inspired principles such as the Lotus leaf or the Moth eye effect to technical surfaces by a high-speed laser process. The application of biomimetic functions can lead to a significant increase of the individual surface performance to enable the next generation of products. The solutions offered by Fusion Bionic are based on the high-speed laser technology Direct Laser Interference Patterning (DLIP) which is up to 100 times faster than established processes. The high-speed functionalization using DLIP paves the way for high-performance surfaces with self-cleaning properties, reduced friction in tribological systems, improved contacting of connectors, enhanced biocompatibility of implants and more.
About the Biomimicry Institute
The Biomimicry Institute is a 501(c)(3) nonprofit organization, founded in 2006, that encourages people to find nature-inspired solutions for a healthy planet. To drive the solution process, the Institute offers AskNature.org, a free online tool that includes strategies from nature and examples of their application in design. The Institute also hosts a Biomimicry Youth Design Challenge to support project-based education, a Biomimicry Launchpad program and Ray of Hope Prize® for entrepreneurs who bring their designs to market, and connects innovators through the Global Biomimicry Network. Biomimicry Institute ist eine 2006 gegründete gemeinnützige Organisation (501(c)(3)), die Menschen dazu ermutigt, von der Natur inspirierte Lösungen für einen gesunden Planeten zu finden. Um den Lösungsprozess voranzutreiben, bietet das Institut AskNature.org an, ein kostenloses Online-Tool, das Strategien aus der Natur und Beispiele für ihre Anwendung im Design enthält. Darüber hinaus veranstaltet das Institut einen Biomimicry Youth Design Challenge zur Unterstützung der projektbasierten Ausbildung, ein Biomimicry Launchpad-Programm und den Ray of Hope Prize® für Unternehmer, die ihre Entwürfe auf den Markt bringen, und verbindet Innovatoren über das Global Biomimicry Network.